Your partner for flameproof enclosures and increased safety solutions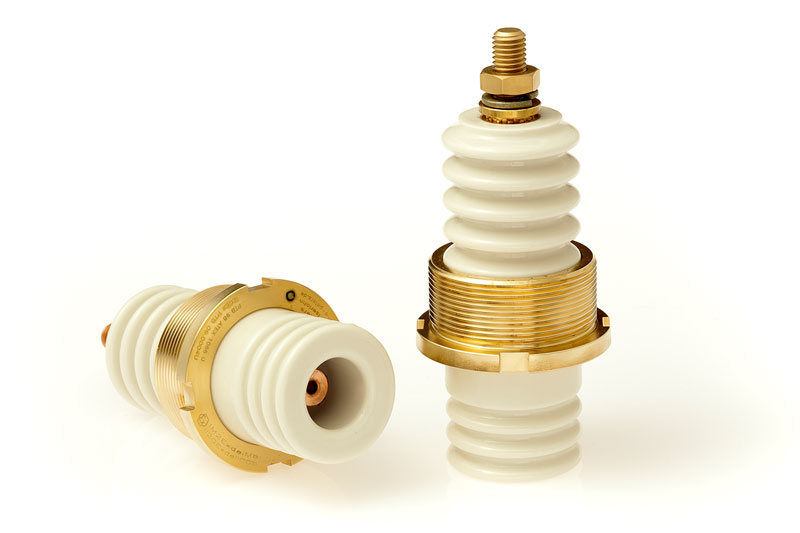 The insulator of our flameproof conductor bushing KD12/6600 is made from ceramics. It comes with a removable bolt made out of copper, OSNA or brass.
The screw-in thread of the insulator is M60x2 by default. The bolt diameter is 12mm.
The conductor bushing KD12/6600 is suitable for an ambient temperature between –55 °C and +90 °C. The rated voltage is 6600 V and the continuous current of the conductor bushings is from 250 A up to 315 A.
The flameproof conductor bushing KD12/6600 is ATEX- and IECEx approved.
PTB98 ATEX 1066U





IECEx PTB 09.0004U


DIN EN 60079-0: 2012
DIN EN 60079-1: 2007
DIN EN 60079-7: 2007



IEC 60079-0: 2011
IEC 60079-1: 2007-04
IEC 60079-7: 2006-07
In addition to our standard conductor bushings we provide special designs according to your requests (e.g. extended threads, coupling hole, connection design etc.).
! Other items of the KD-series are discontinued. They can be replaced without safety-related concerns by our flameproof conductor bushings of the PLD-series !
In case of questions please do not hesitate to contact us!

Type
Drawing number


Screw-in thread



bolt diameter


bolt material




continuous current




rated voltage



KD12/6600

205-98

M 60x2

12 mm

CuZn39Pb3/
E-Cu/CuCrZr

250 A/
315 A

6600 V