Your partner for flameproof enclosures and increased safety solutions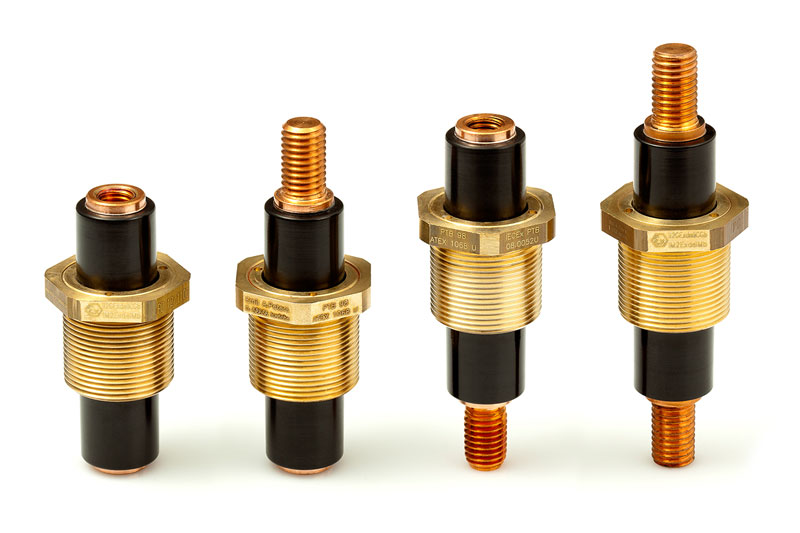 The insulators of our flameproof conductor bushings are made from epoxy moulding compound. They come with a fixed bolt made out of copper.
The screw-in threads of the insulators are available from M20 up to M48. The bolt diameter can be chosen from 8mm up to 24mm coming along with four different connection combinations.
The conductor bushings of the PD- and RD-Series have an admissible temperature between –55 °C and +120°C. The rated voltage is from 275 V up to 2200 V. The continuous current of the flameproof conductor bushings is from 100 A up to 800 A.
The flameproof conductor bushings of the PLD-series are ATEX- and IECEx approved.
PTB98 ATEX 1068U





IECEx PTB 08.0052U


DIN EN 60079-0: 2012
DIN EN 60079-1: 2007
DIN EN 60079-7: 2007



IEC 60079-0: 2011
IEC 60079-1: 2007-04
IEC 60079-7: 2006-07
In addition to our standard conductor bushings we provide special designs according to your requests (e.g. extended threads, coupling hole, connection design etc.)
In case of questions please do not hesitate to contact us!
Type
Drawing number


Screw-in thread




bolt diameter




continuous current




rated voltage



PD 8/275

275-08

M 20x1,5

8 mm

160 A

275 V

PD10/275

275-10

M 26x1,5

10 mm

200 A

275 V

PD12/275

275-12

M 30x1,5

12 mm

315 A

275 V

PD16/275

275-16

M 36x1,5

16 mm

400 A

275 V

PD 8/1100

250-08-98

M 20x1,5

8 mm

160 A

1100 V

PD10/1100

250-10-98

M 26x1,5

10 mm

200 A

1100 V

PD12/1100

250-12-98

M 30x1,5

12 mm

315 A

1100 V

PD16/1100

250-16-98

M 36x1,5

16 mm

400 A

1100 V

PD20/1100

250-20-98

M 42x1,5

20 mm

630 A

1100 V

PD24/1100

250-24-98

M 48x2

24 mm

800 A

1100 V

PD 8/2200

260-08-98

M 20x1,5

8 mm

160 A

2200 V

PD10/2200

260-10-98

M 26x1,5

10 mm

200 A

2200 V

PD12/2200

260-12-98

M 30x1,5

12 mm

315 A

2200 V

PD16/2200

260-16-98

M 36x1,5

16 mm

400 A

2200 V

PD20/2200

260-20-98

M 42x1,5

20 mm

630 A

2200 V

PD24/2200

260-24-98

M 48x2

24 mm

800 A

2200 V

RD8/1100

270-08-98

M 20x1,5

8 mm

100 A/
160 A

1100 V

RD10/1100

270-10-98

M 26x1,5

10 mm

160 A/
200 A

1100 V

RD12/1100

270-12-98

M 30x1,5

12 mm

250 A/
315 A

1100 V

RD16/1100

270-16-98

M 36x1,5

16 mm

315 A/
400 A

1100 V

RD20/1100

270-20-98

M 42x1,5

20 mm

400 A/
630 A

1100 V

RD24/1100

270-24-98

M 48x2

24 mm

630 A/
800 A

1100 V